The go-to address for all your 19 inch racking needs
Rack 247 delivers 19" racks and related accessories of premium quality for a great price. Most products in our shop are manufactured and sold by Penn Elcom.
Ordering a
19" server- or patch cabinet
A Penn Elcom 19 inch (server) rack enables a concise, safe and efficient way to store your IT-hardware.
A 19 inch patch cabinet (more commonly referred to as wall-mount racks) is most suitable for arranging your network connections and the associated cabling. A server cabinet can also be used for this, but the biggest advantage of a patch cabinet is that its wall-mountable.
A rack cabinets mounting fixture consists of two parallel metal strips (also referred to as "posts" or "panel mounts") standing vertically. The posts are each 0.625 inches (15.88 mm) wide, and are separated by a gap of 17.75 inches (450.85 mm), giving an overall rack width of 19 inches (482.60 mm). The posts have holes in them at regular intervals, with both posts matching, so that each hole is part of a horizontal pair with a center-to-center distance of 18.312 inches (465.12 mm).
Penn Elcom 19 inch server rack cabinets are, by default, equipped with four vertical posts. The holes in the posts are arranged vertically in repeating sets of three, with center-to-center separations of 0.5 inches (12.70 mm), 0.625 inches (15.88 mm). The hole pattern thus repeats every 1.75 inches (44.45 mm).
To 19" Rack systems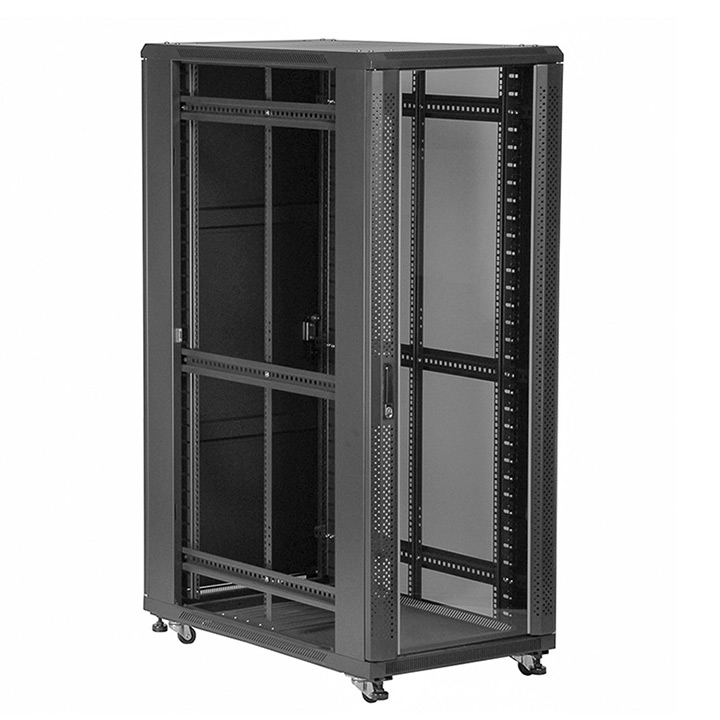 Industry standard or
custom-made rack panels
19 inch rack panels by Penn Elcom are of European top-quality and manufactured out of powder-coated steel plating. Penn Elcom delivers a full stack of industry-standard rack panels.
To Rack Panels
Custom-made rack panels
Small series of custom-made rack panels can also be manufactured "in-house" to fit specific requirements of our most demanding clients.
Clients can design their own custom Penn Elcom 19" rack panels to suit their specific needs, by using the configurator on this website. This service provides the means to produce custom rack panels in small series or as single items within a small amount of time.
To configurator
If the design possibilities of the configurator still aren't sufficient there is always the possibility to contact our sales department, no strings attached.
Contact sales
All about
rack dimensioning
All rack panels by Penn Elcom have a default width of 19 inch and an increasing height depicted in number of Rack units, RU or U.
A rack unit, U or RU as a unit of measure describes the height of electronic equipment designed to mount in a 19 inch rack. The 19 inches (482.60 mm) or 23 inches (584.20 mm) dimension reflects the width of the equipment mounting-frame in the rack including the frame; the width of the equipment that can be mounted inside the rack is less. One rack unit is 1.75 inches (44.45 mm) high.
A rack panel or filler panel in a rack is not an exact multiple of 1.75 inches (44.45 mm). To allow space between adjacent rack-mounted components, a panel is 1⁄32 inch (0.031 inch or 0.79 mm) less in height than the full number of rack units would imply. Thus, a 1U rack panel would be 1.719 inches (43.66 mm) high. If n is number of rack units, the formula for panel height is h = (1.750n − 0.031) for calculating in inches, and h = (44.45n − 0.79) for calculating in mm.
The rack unit size is based on a standard rack specification as defined in EIA-310. The Eurocard specifies a standard rack unit as the unit of height; it also defines a similar unit, horizontal pitch (HP), used to measure the width of rack-mounted equipment.
By confirming equipment dimensions to this 19" standard it'll become possible to stack a considerable amount of equipment in a fairly tight space. Furthermore it'll be easy to estimate the required amount of space to house your configuration.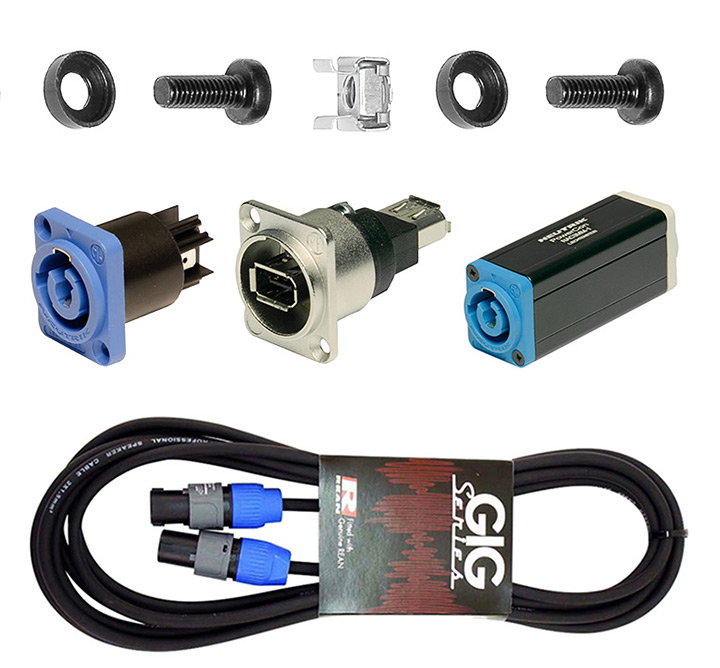 Many accessories
sold seperately
Apart from rack housing and rack panels, we also have all other relevant 19 inch parts and accessories from the vast assortment of Penn Elcom available in this shop.
This includes shelves, drawers, cabling, power distributors, rack lighting and housings for all your 19" equipment. Last but not least we also offer a wide range of Neutrik connectors to complete your panel design.
To 19" Components